What a week!

I had the best ever one to one session with my new manager. I came away energised, full of ideas, feeling enabled, valued and excited for the future. Long may it continue!



I'm on holiday this week and have come away with MrC for a few days, something I didn't think he would enjoy. MrC's idea of a holiday is to go visiting places, rushing off from one activity to another. However his illness means he doesn't always have the energy to do that.

For the last couple of years I have been trying to persuade him to try something quieter and lower his expectations. He finally agreed and the holiday has been a complete success. I booked three nights at a cottage in a place called Chapel Amble It is beautiful, quiet and just what I needed. We took things to do in the cottage and have gone out for an hour or so each day.

Okay, we haven't done very much and have watched a lot of TV but we've gotten away from the everyday pressures and stresses and spend time alone together. I feel so relaxed and am already planning a week away in February!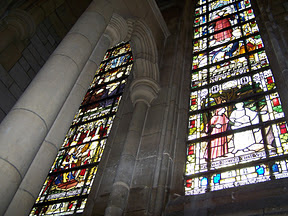 And lastly, the plans to move Amy to London are moving along really well! She is staying with friends for a couple of weeks while she searches for a place of her own. Maybe only having just over a week to get her sorted has worked out in our favour, less time to worry!

We are having cocktails (lots of) on Friday night and I am driving her to London on Sunday morning, so a busy weekend for us all! The last few days away were well needed!



She also took my advice and has started to blog about how she feels about the move. Marvellous Adventures of a Devon Girl so please show some support. I am going to miss her so much but think that will be another blog post!

So that was my week, how was yours? Any advice for Amy on how to survive living and working in London?

Don't forget to get yourself over to Michelle's Mummy from the Heart and show your love for other people's Reason to be Cheeful!



Photo's this week were from a visit to Truro Catherdral, a beautiful calming space