I'm very pleased to be posting and linking again to Michelle's
Mummy from the Heart Reasons to be Cheeful
. It's where a group of people take a look back at their week and take time to celebrate and record things which have made them cheerful, no matter how insignificant.
It's Saturday and therefore I'm on holiday! Hoorah! I really feel I need it! I know it was really only 5 weeks since I had a long weekend, but my batteries need recharging. And this time I am going away with Mr C which is extra special.
We don't have a lot of time alone together to just enjoy each other's company. There is always something to be done, or someone else around, so four days off just us will be amazing, a real treat and something we deserve.
As regular readers of this blog or followers in Twitter may know, I was recently put at risk of redundancy and had to apply for a role to stay at the company. I found out I was successful several weeks ago (or this would be a whole other post!) but hadn't asked for feedback on how the interview went. I'm just not brave enough. I thought 'I must have been good enough to get a job I don't want to know the rest!'
But I've been mulling things over (probably as a result of joining with Kate's
The Five F's Life Circle
) and thought it would be a wasted opportunity to not get some feedback on how I actually did and find out areas I could improve in.
I'm not very good at asking for feedback, not because I don't think I have areas to improve on, but because I can't bear to think someone doesn't like me. I have need issues! What can I say? I know its irrational, I can be good at my job without someone having to like me, but what can I say? It's me, it's who I am. I'm sure dear reader I'm not alone....oh god, please say you agree with me. I can feel the panic rising!
Yesterday was F day ie 'feedback day' And ......they like me! Phew! I didn't break down in tears or anything, which is a result! (another habit I have! I must be a nightmare to manage Sorry
@breenster
, my old manager. I haven't broken down with my new boss yet, but there is always time!) The feedback was positive and constructive and not a surprise which is an added bonus. I think I'm emotionally intelligent enough now to know myself, something I wish I'd had at 20! There was one surprising thing though, maybe sometime's I'm too helpful. In my book is there such a thing? Or am I too nice (
another of my posts)
What do you think?
And now I have been saving the best still last! I recently had
Amy's Graduation
as a Reason to be Cheerful and she is featuring again.
She has gotten a job! And is moving to London! On the 16th of October! Just over a week away.......OMG! My baby is really growing up
She had been struggling to get past the first stage of the interview process as a lot of companies needed someone with experience. As a a recent graduate, she had no experience and was finding it difficult to break through!
But she has done it!
I am busting with pride and have a whole raft of emotions running through me even as I type. She only got the news on Tuesday and there is so much to do, finding somewhere to live for a start! (let alone process those said emotions!)
It's going to be hard for her, the pay isn't very good, but it's the bottom rung of an industry she wants to be in, using her Toxicology degree for a company she was desperate to work for. What more could a recent graduate ever ask for!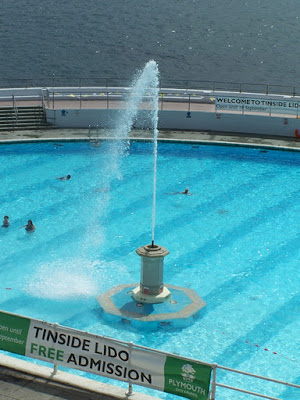 So a brilliant week for me, but then I can always find something which has made me smile or a lesson learnt, no matter how bleak. But please take the time to have a look and maybe leave a comment on some other posts at Michelle's for some other
Reasons to be Cheerful
.
PS and the significance of the pictures? They're ones I took on a solitary walk around my home town of Plymouth and The Hoe in particular. I love living here, another reason to be cheerful